---

How to View the Photos
Clicking on the

thumbnail brings up the gallery or galleries of photos for that title. Then, clicking on the thumbnails within a gallery brings up the individual photos with a line of all the thumbnails for that gallery above it. If you then click on the enlarged version of the photo, you will get a still larger version if the format is horizontal but not necessarily if it is vertical (depends on your computer). Clicking on that image will reduce it back to its former size. You can get maximum size images of both orientations if you click on slideshow. In this mode, you can activate a toolbar across the bottom by moving your cursor to the bottom of the window or over the chevron at the lower right corner. Check the "transitions" box in this tool bar to enable cross fading of the photos. The speed at which the photos change is also on this tool bar, near the right end.

Along the right side of the window, there is a control for the background color.
---
---
Places of Spiritual Power
Created 12-Mar-10
Modified 12-Mar-10
Peter Shrope (Rainbow Lake, NY)
Created 9-Aug-09
Modified 9-Aug-09
Burdette Parks (Bartlett Carry, NY)
Created 14-Jul-09
Modified 14-Jul-09
Karen Davidson and Peter Seward (Averyville, NY)
Created 18-Jun-09
Modified 18-Jun-09
Caroline Thompson (Wadhams, NY)
Created 18-May-09
Modified 18-May-09
Addison Bickford (Rainbow Lake, NY)
Created 20-Apr-09
Modified 20-Apr-09
Phil Gallos (Saranac Lake, NY)
Created 10-Apr-09
Modified 10-Apr-09
Monique Monette (Wilmington, NY)
Created 28-Mar-09
Modified 28-Mar-09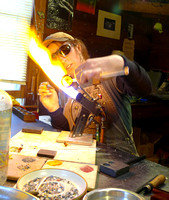 ---
Places of Spiritual Power
Created 12-Mar-10
Modified 12-Mar-10
How Many Artists does it take to Screw in a Light Bulb?
Modified 9-Aug-09
221 photos
My 1970s, Saranac Lake Selections
Created 15-Nov-07
Modified 15-Nov-07
The Leica Challenges
Modified 23-Oct-08
100 photos
Boulders
Modified 30-Nov-07
36 photos
Le Tour de Gaspesie (under construction)
Modified 23-Jan-08
163 photos